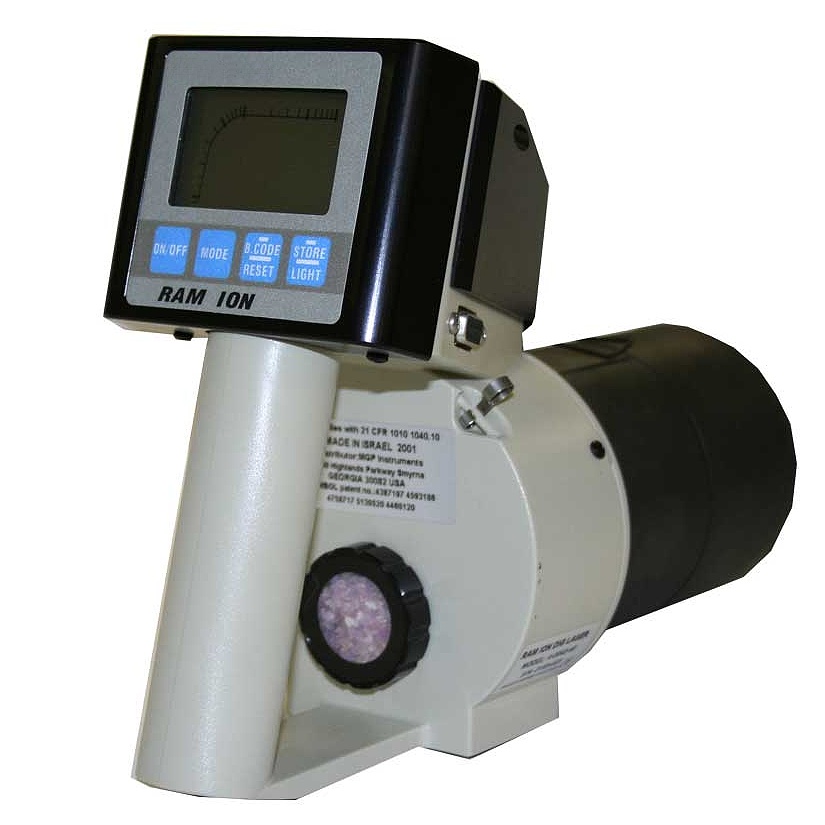 The RAMION DigiLog is a battery operated, auto ranging, portable ion chamber survey meter designed for highly stable and accurate measurement of dose rates and integrated dose of gamma, x-ray and beta radiation. The meter covers a measuring range of 1µSv/h – 500 mSv/h (0.1 mR/h to 50 R/h) in the dose rate mode, and 0.01 µSv – 10Sv (1uR to 1000 R) in the integrated dose mode. The auto ranging meter utilizes a combination display consisting of a smoothed digital readout for minimum fluctuation and a two-decade analog bar graph for fast response.
The RAM ION DigiLog survey meter combines an ionization chamber vented to atmospheric pressure, and a micro-controller to offer optimal performances and special features. Furthermore it is a compact, one hand-held, lightweight, rugged meter, easy to use and maintain.
The RAM ION DigiLog provides a very straightforward, fast and reliable method of collecting and storing monitoring data on site for later use. The RAM ION DigiLog can read bar code labels that identify measurements location. The measurement's data combined with their locations, data and time are stored in a built in memory. The stored data records can be downloaded by the SMARTS (Survey Mapping Automated Radiation Tracking System) or the RMV (Rotem Meter View) software packages.
The RAM ION DigiLog is ideal for use in nuclear power plants, nuclear medicine, radiography and radiotherapy facilities, life science laboratories, nuclear research centers and in other industrial applications.
Features
ICRP-51 H* (10) Response also available
Ion chamber survey meter
Barcode laser scanner
Wide measuring range of 1µSv/hr to 500mSv/hr (0.1 mR/hr to 50R/hr)
Built in memory to store data
Compact, lightweight and easy-to-use, one hand operation
Dose rate and accumulated dose measurement
Display illumination
Freeze mode to record the highest dose
User programmable dose rate and accumulated dose alarms
Remote PC communication
Hot Spot detection
Splash proof keypad
Multi use including wireless applications
Low battery, overflow and detector fail alarms
Measuring Range

1µSv/hr to 500mSv/hr (0.1 mR/hr to 50R/hr)

Display Range

0.1µSv/hr to 500mSv/hr (0.01 mR/hr to 50R/hr)

Accuracy

±10% of reading within measuring range

Sensitivity

From 0.1 mR/h to 250 mR/h: 172 CPS/mR/hr

From 250 mR/h to 50 R/h : 1.72 CPS/mR/hr

Gamma Energy Dependence (Cs-137)

Better than ±20% at 20keV to 1.3MeV (related to 137Cs)

Angular Dependence (Cs-137)

Less than ±5% (for ±120o of front direction, related to 137Cs)

Ion Chamber Volume

500 cc

Chamber Wall and Cover Thickness

300mg/cm2 (tissue equivalent)

Window Thickness

7 mg/cm2

Response Time

2 sec. for readings above 1 mR/h
5 sec. for auto-ranging change, from Low Range to High Range
(2sec. + 3 additional seconds for auto ranging delay)

Power Source

meter: two 1.5V C-type Alkaline cells – 100 hours of continuous operation
laser scanner: One 9V Alkaline cell – 6000 operations
(Built in automatic battery check)

Display

DigiLog (3 digits and 2 decades of analog bar graph)

Data Logging

347 data records (1415 with extended memory)

Temperature Range

Operation: -10oC to +50oC (15oF – 122oF)
Storage: -20oC to +60oC (-5oF – 140oF)

Humidity Range

Up to 95% RH (non condensing)

Dimensions

Width: 10cm (3.9″), length 25cm (9.8″), height 19cm (7.5″)

Weight

1100g (2.4lb)

Casing

High impact ABS