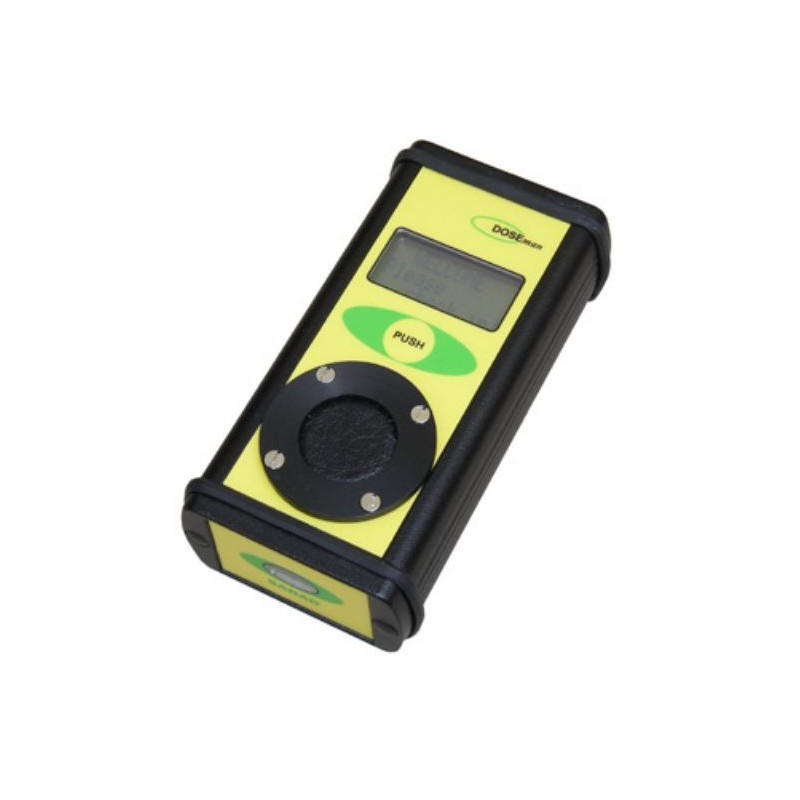 The Radon dosimeters DOSEman is a radon personal dosimeter. Its dimensions, its light weight and its robustness allow trouble-free carrying the device on your body.
The built-in battery power the Radon dosimeters DOSEman for about 12 days with electricity. The unit is completely tamper-proof and can be operated using a single button. The built-alpha spectroscopy fastest possible response times can be achieved, so that the wearer of Radonexposimeters is warned immediately of hazardous concentrations.
The internal data memory is designed so that even longer measurements with a high temporal resolution can be saved. The reading of the data is effected by means of contactless infrared interface (accessory).
The Radon exposimeter is shipped with the current version of the Radon Vision software.
Technical Data
Theory of operation

HV biased measurement chamber with diffusion membran for air inlet
Electrostatic collection of Radon daughters generated by Radon decay within
the chamber on the surface of a semiconductor detector
Spectroscopic analysis of collected short living Radon daughter products

Measurement range 0 … 4 MBq/m³
Response time 12/120 Minutes to 95% of the final value
Sensitivity 0.18/0.32 Counts/Minute @ 1000 Bq/m³ (fast/slow mode)

20% statistical error (1σ) @ 200 Bq/m³ within 8 hours (slow mode)
10% statistical error (1σ) @ 200 Bq/m³ within 24 hours (slow mode)
16% statistical error (1σ) @ 1000 Bq/m³ within 2 hours (slow mode)

Sample interval 1 … 255 Minutes, adjustable by software
Non volatile data memory to store 720 data records and sum spectrum
Internal real time clock
Internal rechargeable battery for 12 days permanent operation 2 hours recharge time
Instrument control by a single push button, Optical and audible alert
Displaying of concentration, exposure and dose (LCD, 3 lines x 12 characters)
Dimensions 115 x 57 x 32 mm, weight 250 g
Available with SI- or US- units
Infrared interface , spezial IR – USB adapter is required
Data transfer, set-up and instrument control by Radon Vision software